Minimalist kitchen inspiration from Instagrammer @omah_rani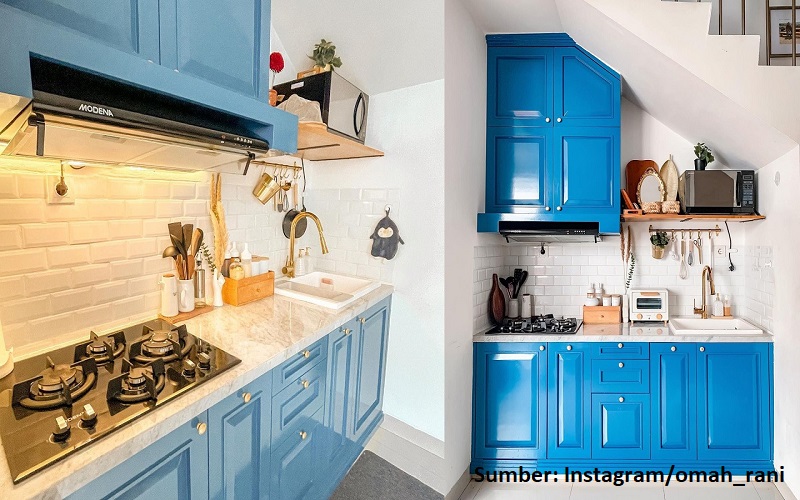 Looking for minimalist kitchen inspiration? Check out the beautiful instagrammer @omah_rani's kitchen design picture below.
The kitchen is a very important corner of the house in a house.
This place is a place where many mothers spend cooking family meals.
Because mothers spend a lot of time here, the interior design of the kitchen should adopt the same concept without time and not boring.
An example is the kitchen design of an Instagrammer named Dewi Rani.
The owner of the Instagram account @omah_rani who already has followers more than 16,000 of them shared their stories about their minimalist kitchen design that caught the attention of netizens.
Curious how the picture?
Come on, let's just look at the inspiring picture of Dewi Rani's minimalist kitchen below.
Modern minimalist kitchen design
If you look, Dewi Rani's kitchen concept brings a modern minimalist concept.
It can be seen from the different furniture, decorations and kitchen set used
On the upper and lower shelves use a minimalist shelf shape.
While some electronic items like stoves and microwave it brings a modern concept.
This combination features an interior design that is beautiful and pleasing to the eye.
Complete kitchen set
This kitchen uses kitchen set which is complete with upper and lower shelves with a matching blue color.
While in the middle use white with some other decorations.
For the walls themselves, they use a brick wall pattern that uses white.
Modern Stove
The gas stove used uses glass material with a black color inside.
There is a 4-burner gas stove that can be used for cooking.
This makes the cooking activity more efficient and faster.
Near the stove there is also a walnut color decoration that adds beauty to the kitchen of the house.
Microwave Menarik
Not only is the stove black, microwave his is also black with a white oven combination next to it.
The size of these two electronic devices is not too big.
Hon microwave there are also small green plants.
Make the color of the kitchen more varied.
This arrangement successfully shows the feeling of a rich kitchen aesthetic.
Luxury looking sink
To wash dishes and other equipment, there is a white sink with a combination of golden faucets that look luxurious.
Inside the sink there is also a plastic container to filter different tools and materials so that it is more functional.
At the top of the wastefel is made a hanger that is a place for various clean tools, such as scissors, brushes, buckets and egg beaters.
Next to the dining room
One of the things that makes this kitchen design more attractive is its location next to the dining room.
The combination of these places makes the feeling of home even closer and closer compact.
The color selection of chairs and dining room tables is also suitable for the kitchen so it is warmer.
Interior designs like this can be a reference for those of you who want to present a kitchen and a dining room without a small partition, but still look spacious and spacious.
***
So, this is an interesting picture of Dewi Rani's Instagrammer-style minimalist kitchen inspiration.
We hope this article is useful, Property People!
Get the best deals like in Kota Baru Parahyangan, West Java.
Turn over a new leaf and make your dreams come true, we are always #AdaBuatAnda.
Also follow Google News www.lacrymosemedia.com.