Meet the Vertical Garden, a contemporary modern garden
Many ornamental plants at home can give a fresh and comfortable feeling. In addition, ornamental plants can function as natural air purifiers by absorbing pollutants and releasing oxygen.
Unfortunately, not all houses have a large area to decorate with different plants. Even so, this does not mean that you cannot make a garden in narrow soil, you know.
If the area of ​​the room is limited, you can create a garden in this way vertical garden.
What's that Vertical Garden?
For a limited area, vertical garden it can be the best solution to create a natural nuanced home concept. Then, the garden will be full of various types of ornamental plants arranged in a vertical formation. In this way, the plants will protect the wall.
This garden model only uses the vertical space at home, such as walls, fences and trellis. In addition to increasing the aesthetic value of a home, vertical garden it can be a habitat for small animals, such as birds and butterflies.
keep calm vertical garden it can also make the atmosphere of the house feel more fresh and comfortable. In addition, green plants can reduce stress levels and improve mood.
What are the Advantages of Ownership Vertical Garden?

Here are some of the advantages of vertical garden compared to other home garden models.
1. Can take care of many plants
Even if you only use one vertical area, you can also plant different types of plants at once, apart from vines.
You can also take care of ornamental plants in pots, then hang them in the vertical garden area. So, you can be free to be creative in choosing the plants to decorate the vertical space at home.

2. It looks more Modern and Charming
Vertical garden it attracts attention because of its unique placement and is still rarely used by most people.
In addition, creating a vertical garden can also give the illusion of a house that looks taller and wider because its shape is straight from top to bottom.

3. Easy to handle

If you are still a beginner in plant care, you can use this method vertical garden. Not without reason, this method can minimize pest problems due to the poor quality of the soil at home.
4. Provide Better Sunlight

Apparently, the plants in the vertical plane can get more of the sun so that the growth will be better.
However, make sure you choose the right plants. Avoid choosing plant species that only require low lighting, such as mother-in-law's tongue and Boston fern.
5. Better Air Circulation

Placing the plants vertically can make the plants exposed to more air circulation. This can help the plant to avoid fungal and disease problems, so its life span will be longer.
6. Better Fruit and Vegetable Yield
In addition to vines, you can also grow different vegetables and fruits with this method vertical garden, you know. In fact, the yield of fruits and vegetables will be better.
With a note, choose types of fruits and vegetables that are able to live in the environment vertically, such as cucumbers, melons and potatoes.
So, how to do it Vertical Garden?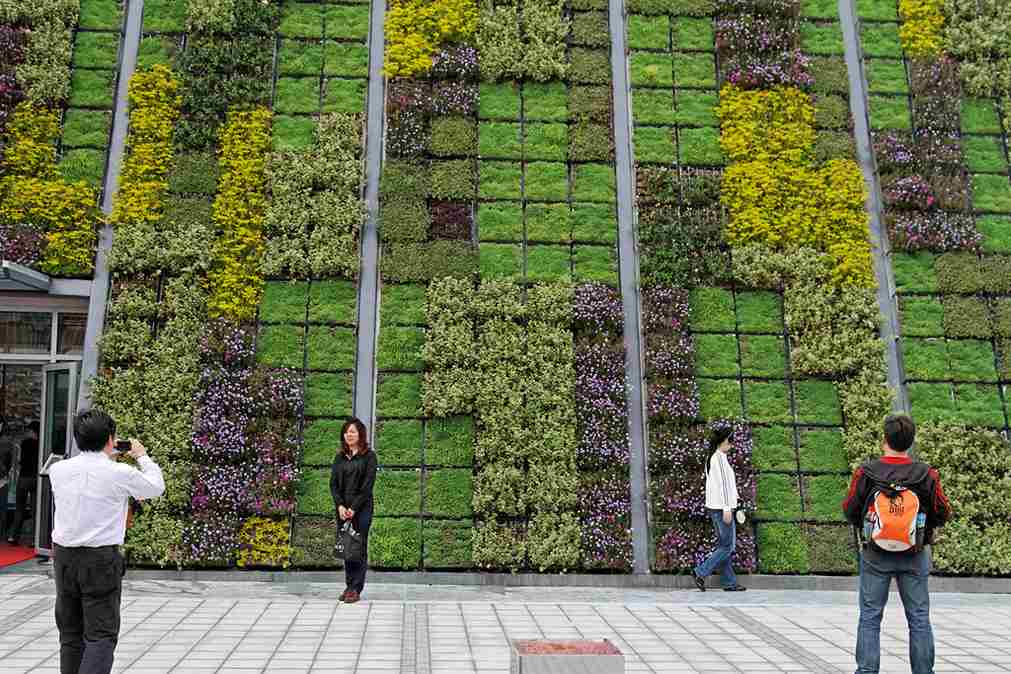 So, if you are still interested in doing it vertical garden at home, then you can listen to the following ways.
Choose the wall to be used as a place to put the plants. If the wall is dirty, you can clean it first.

After choosing the location of the wall, you can make a frame as the first layer. Use PVC pipes, elbows, and pipe joints in four ways to make it easier.

When the frame is finished, add a plastic sheet as the second layer.

Then, add the canvas to the frame as a final layer. Use two layers of cloth to keep the water out.

After that, you can make an irrigation system so that the entire surface of the fabric becomes wet. It uses standard valves and

drop

Irrigate with a timing so you can adapt to the weather.

Add a fertilizer injector and install an irrigation system that points to the water source in the house.

Finally, choose a plant that you like. So, arrange it by giving enough distance so that it does not look full and still be aesthetic.
Easy, right? Well, you can get a variety of gardening equipment for the home garden only through it variety.
Want to buy gardening supplies saving up to 50%? Click here
shopping site online It also has a collection of furniture, appliances and home appliances from famous brands of the Kawan Lama Group, namely ACE, Informa, Selma, Ataru, Pet Kingdom, Krisbow, and many others.
We too have some advice gardening equipment which must be owned so that you can take care of ornamental plants to the maximum at home, such as the following.
Shop here
Shop here
Shop here
Shop here