Inspirational story of Instagrammer @Enji.Monica Owner of Yellow House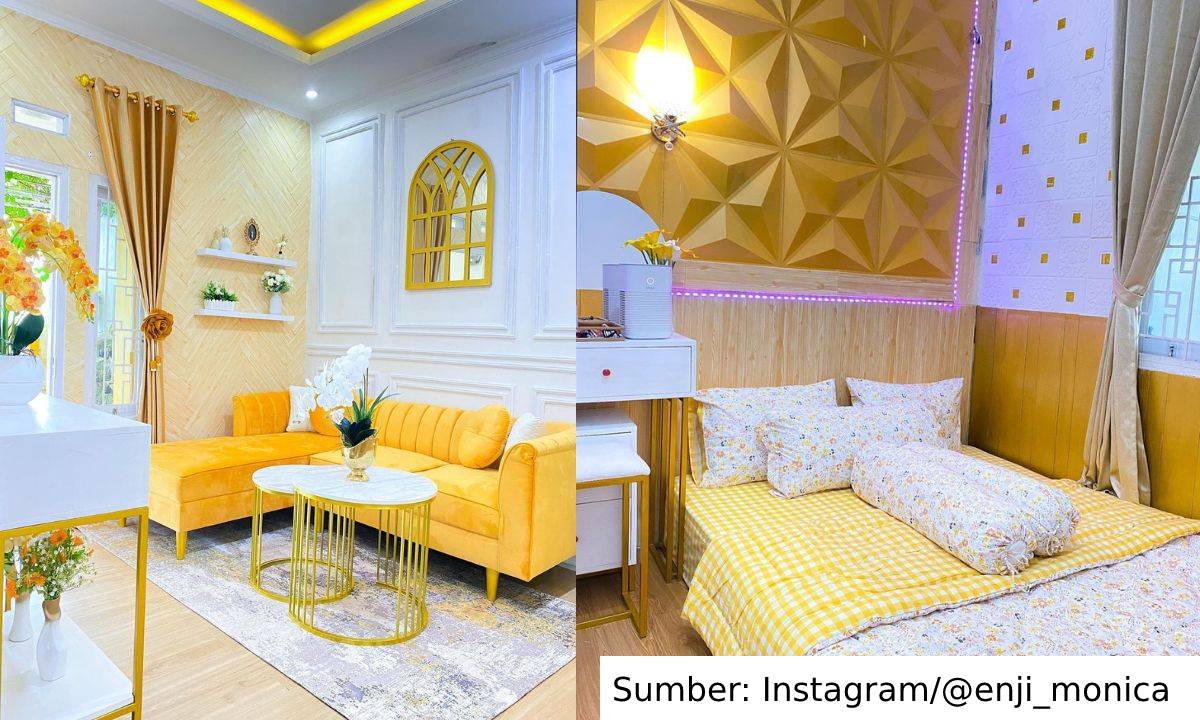 There are many ways to build a dream home. Go see the inspirational story instagrammer @enji.monica owner of a yellow house who managed to build a house with her beloved husband!
Having a comfortable home is certainly the dream of many people, especially if the house is possible before the goal.
One of the lucky people to experience this is Enggi Oktaria Monika or who is familiarly called Enji.
Yes, Enji and her husband managed to own their dream house in just 2 years of marriage.
They also managed to renovate the house to be more beautiful and aesthetic in a few months.
Even so, it turns out that there are many times and times that have to face to realize this dream house. here we go.
Curious about how @enji.monica's process with her husband bought and arranged her house to be as beautiful as it is now? Go ahead, check out the following review!
The Process of Creating a Yellow House at @enji.monica
Enji admitted that he initially aimed to buy a house within five years of marriage.
However, with the persistence of their efforts with their husbands, they managed to realize this dream faster, only two years of marriage.
"Initially, we signed a contract for two years. Then save. Initially, we had a goal for the house to be a maximum of five years of marriage. However, thank god after two years of marriage, you can buy a house and renovate directly in the second year," said Enggi Oktaria Monika to the www.lacrymosemedia.com team.
This may happen because Enji and her husband have been diligent in putting aside their monthly salary since the beginning of their marriage.
Every month Enji and her husband manage to save their limited monthly income Regional minimum wage (UMR) depending on capacity.
"Since the beginning of the marriage, we have been saving money. Put some salary every month. Sometimes IDR 1 million, IDR 800 thousand, IDR 500 thousand depending on the ability because we also have children," he said.
In addition, Enji also has a side job sale online. This business ended up being the biggest help in buying his dream home.
"We have a side business, sales online here we go. The profits were collected and it became bigger. Most of the money to buy a house precisely from the business online. That's why we can still renovate in six months (after buying a house)," he explained.
Unique Concept of Casa Gialla
Enji said he wanted to give his house a unique and elegant look.
As a result, it has a yellow color as the dominance of wall paint and furniture in this residence.
Interestingly, not only yellow, Enji also combines many colors, such as white and gold in some of his home decorations and furniture.
"Leave it No impressive impression a lot. I alternated the color yellow with white and gold", he said.
In addition to this, Enji admits that finding items in yellow is quite difficult and expensive.
"These yellow items are really hard to get. Even if it's expensive," he said.
In fact, it took Enji almost 3 years to get the look of his house as it is now.
However, at this time Enji declared that he had become Brand ambassador and accept approval thus helping more quickly to fill some household furniture.
Home renovation process full of tricks and tricks
Enji admitted that she bought a house with a mortgage repayment scheme (KPR) with her husband without asking for financial assistance from her parents or relatives.
In fact, to make renovations in six months, Enji removed the savings she and her husband directly without a loan from the bank.
He also managed to renovate the building to make it more spacious and comfortable to live with his family.
"We also renovated the size of the house. Before the size of the house was 6 x 6 meters, now it is 6 x 8 from the front to the kitchen," explained Enji.
Currently there are about 6 rooms in this yellow house which consists of 2 bedrooms, 1 living room, 1 kitchen, 1 laundry roomand 1 bathroom.
To make this house a reality, the mother of a child admitted that it was not easy, there are many times, even during the renovation process.
This is because the renovations were hindered by heavy rains several times, so they had to stop.
In addition to this, the renewal process was also stopped for several weeks due to the condition of Enji's husband, who had to be taken to the hospital for surgery.
"In the past, when the renovation was stopped for 2 weeks because my husband had a surgery, the pain of the gland. It stopped because the builders had no control and regulation," he explained.
Internet decoration ideas without architect services
This couple from Cianjur who chose to live in Sukabumi did not use the services of an architect to build their house.
They choose to do renovations and decorations directly relying on the Internet.
"Renovation and decoration only with the husband. So I just look on Google or check on YouTube," she said.
Also, Enji explained that there are many rooms in his house because he likes privacy a lot.
Therefore, all parts of the house tend to have partitions or even doors.
One of them is a partition in the form of a door between the living room and the kitchen.
"Because I want to have privacy in every room. Jad doesn't want it to be like an ordinary house without a door from the kitchen to the living room," added Enji.
***
It is the inspiring story of Instagrammer @Enji.Monica, the owner of Casa Gialla, who was able to build her dream home with her beloved husband.
I hope this story will inspire you and be useful for you, ok?
Find other interesting news about lifestyle and property only at www.lacrymosemedia.com and always follow our Google News.
Also get the convenience of owning a house with www.lacrymosemedia.com that will always be #AdaBuatAnda.