Inspiration for the Tiny House concept of the House of NolanVilan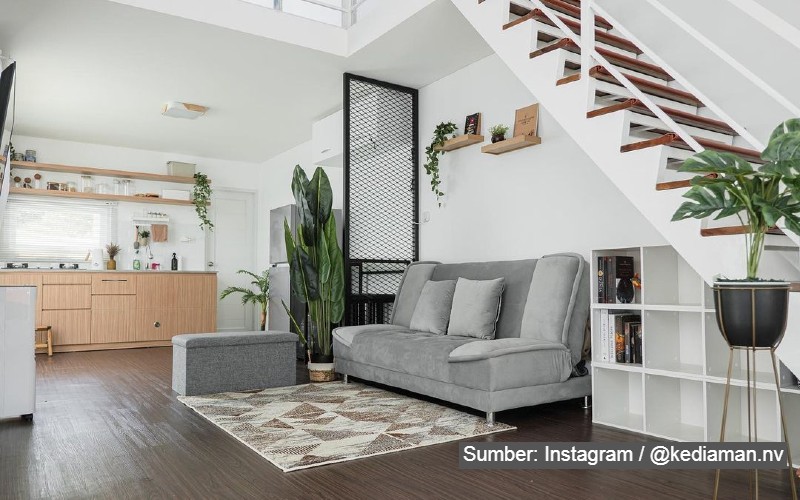 For the owner of the NolanVilan Residence, a limited plot of land is not an obstacle for the realization of an aesthetic concept of a small house. Go ahead, take a look at the following inspiration.
Small types of housing, such as the house of type 27 or the house of type 36 are still a preferred choice for many people, especially for young people who have just married.
In addition to the cost of building a house that is more affordable, the small type housing is also considered to make it easier for the owner in terms of selection.
Like the design concept small house called Kediaman NolanVilan.
Some time ago, the www.lacrymosemedia.com editorial team had the opportunity to speak with Praditya Kusuma, the owner of the house, about the inspiration for the house.
Just check out our chat below!
Adoption of residential concept Open Space
The owner of the house said that conceptually, his residence was designed for adoption small house and many present multiple circulation openings.
For those of you still in the audience, small house is a small residential design that is now widely adopted by people in Indonesia.
Less is more is the basic principle of this residential concept, so the owner chooses furniture that is multifunctional.
The man who is familiarly called Raditya explained that his residence is located on a land area of ​​5 x 20 meters and a building area of ​​3 x 9 meters.
There is a Mezzanine area
The residence of NolanVilan is equipped with a living room, kitchen and also a mezzanine of 3 x 5 meters.
The mezzanine area functions as a bedroom as well as a workspace.
As for the cost for the house small house This is around Rp 260 million, with a processing time of 5 months.
"One of the reasons for choosing the concept small house This is so we don't have to worry about cleaning up," he said with a laugh.
Raditya also said that he deliberately presented the concept of open spaceto have a place to live with a clear view.
"As much as possible what you see is not just a wall. So, make the concept of a house with many openings," he said.
Design house Tiny House functional
Raditya's motivation to design a minimalist home concept with open space also based on the need for space to support their work.
As a photographer before marriage and content creatorit needs spaces for creativity.
For Raditya, this minimalist house is not only a place to live, but also doubles as a "studio" for photos and other content.
Therefore, the interior walls of the NolanVilan Residence are mostly white.
As for the floor, Raditya uses vinyl flooring with the brown color of natural wood.
He admitted that he took a lot of inspiration from the pictures he visited.
"I often rent locations for photo shoots, such as villas or houses, and these locations inspire me when I decorate," explained Raditya.
He gave an example, on the front window with a type of window seat that was inspired by a villa.
Minimalist kitchen inspiration
Although the construction area of ​​this house is limited, the owner of the Residence NolanVilan can still present a beautiful kitchen.
The kitchen comes with a length of 2.4 meters and a width of 60 cm.
The small but beautiful modern minimalist kitchen uses a kitchen set with MDF and HPL materials.
As for the kitchen table, Raditya uses polished marble coating neutral color.
"For the cost of making a special kitchen area, at that time it was around Rp. 12 million," concludes Raditya.
***
Well, this is a review of a minimalist house design with the concept of a functional and aesthetic tiny house that belongs to NolanVilan Residence.
I hope this article can add information and be useful for you, yes!
Also read reviews of lifestyle articles, property news to design inspiration, only at articles.www.lacrymosemedia.com.
Do not forget to read reviews of nice houses and instagrammable more on Google News www.lacrymosemedia.com.
If you want to find your dream home, we find the best advice at www.lacrymosemedia.com, because we are #AdaBuatAnda.
The best advice to have a luxurious minimalist home in the area of ​​Cimahi Nord, West Java, is definitely the Royal Clove by Colonel Masturi.