Here is an interesting fact about the white cat with blue eyes
Besides being adorable, cats have an attraction in the form of unique and beautiful eye colors. Perhaps, you are also familiar when you see a white cat with blue eyes.
However, we often hear that a white cat with blue eyes indicates that it is deaf. In fact, this perception is not entirely correct. you know.
So, are all white cats with blue eyes deaf? So, what breed of cats have blue eyes?
Let's look at the facts about cats with blue eyes in the following explanation.
Do white cats with blue eyes pretend not to hear?
Newborn kittens have blue eyes and they change as they mature around 6-7 weeks, when the production of the melanin pigment occurs.
In addition, another reason is also found in the type of gene. You see, about 60 percent of white cats have blue eyes from a KIT gene mutation or cellular problem.
So, the iris of the eye has a few melanocytes or pigment cells. Well, these cells create skin pigment and play a role in the function of the inner ear.
Therefore, a cat with a small number of melanocytes will have reduced auditory function.
However, this does not mean that all cats that lack cells will be completely deaf. Interestingly, the researchers found that if there were white cats with a blue eye, they were deaf in one ear.
The ears are always on the same side as the blue eyes.
How do you know if a cat can't hear?
To find out if a cat can hear or not, you can do a simple quiet clap or clatter nearby.
However, if the cat has a blue eye, try to approach the cat from behind and gently tap your finger on the side of the ear that is in line with the blue eye.
If you have done these two methods, but there is no response, maybe the cat's ears do not really feel.
What Are Cat Breeds With Blue Eyes?
Here are some cat breeds that have blue eyes.
1. Persian cat
The Persian cat is one of the most popular breeds with soft and fluffy fur and a sweet personality. Often, Persian cats have bright blue eyes that look beautiful and attractive.
2. Ragdoll
It is no more surprising than the breed of cats ragdoll he has big blue eyes. This cat has a friendly and intelligent nature.
They also like to socialize, so the atmosphere of the house will be pleasant if maintained.
3. Siamese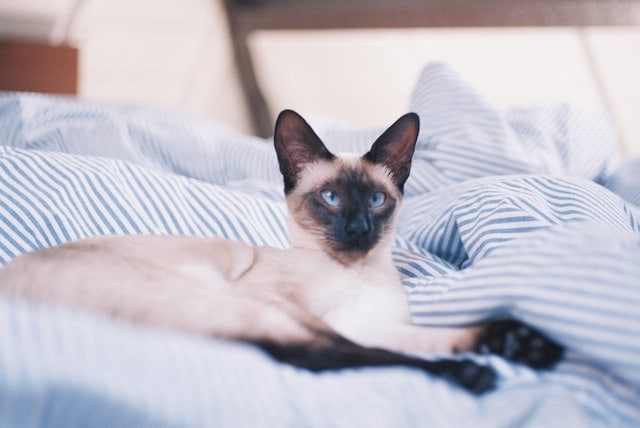 The famous Siamese cat has captivated cat lovers around the world for having the perfect blue eyes almond obvious The Siamese cat breed has a friendly nature and likes to be the center of attention when it is crowded.
4. Angora cat
The Angora cat has unique and different eye colors such as green, yellow and blue. In addition to the color of the eyes, the Angora cat is famous for its bright white fur and long body. His nature is affectionate and friendly to anyone.
5. Tonkinese cat
Cat Tonkinese is a cross race between Siamese and Burmese whose eyes are blue. While its body is white-brown with soft shades. This breed is suitable for you to breed because it is affectionate and adorable.
These are the facts and breeds about white cats with blue eyes. Adorable, right?
If you plan to breed a cat, make sure you can meet their different needs, both cages and food.
Don't worry, you can buy all pet supplies only through the site varietysuch as the following.
Shop here
Shop here
Shop here
Shop here
Collect pet supplies save up to 50% Click here
shopping site online It also sells household equipment and cleaning equipment from famous brands belonging to the Kawan Lama Group, namely ACE, Informa, Selma, Krisbow, Toys Kingdom, Ataru, and many others.