Designs of 11 2×3 Size Bedrooms with Aesthetic Mattresses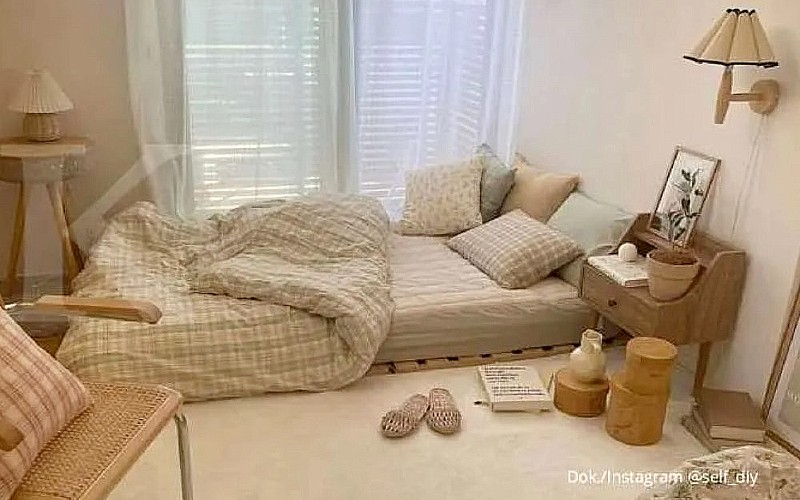 Find inspiration for a 2×3 bedroom design with a floor mattress. Suitable to be applied to guesthouses or minimalist houses of type 36.
A room size of 2×3 is often the choice for minimalist residential owners with limited land.
However, they can still achieve an aesthetic and comfortable interior of the room.
One way is to use a trundle bed in a 2×3 room.
In addition to being able to save the use of the room, this step can also reduce the cost of making rooms.
So, here are some 2×3 bedroom designs with floor mattresses that can be an inspiration at home.
2×3 room design with floor mattresses
1. Mattress Blue Floor
You can make a simple 3×4 room design or even a 2×3 size room to make it more comfortable.
Using a floor mattress can make the room wider, because you don't need a bed frame that can take up more space.
2. Room design for girls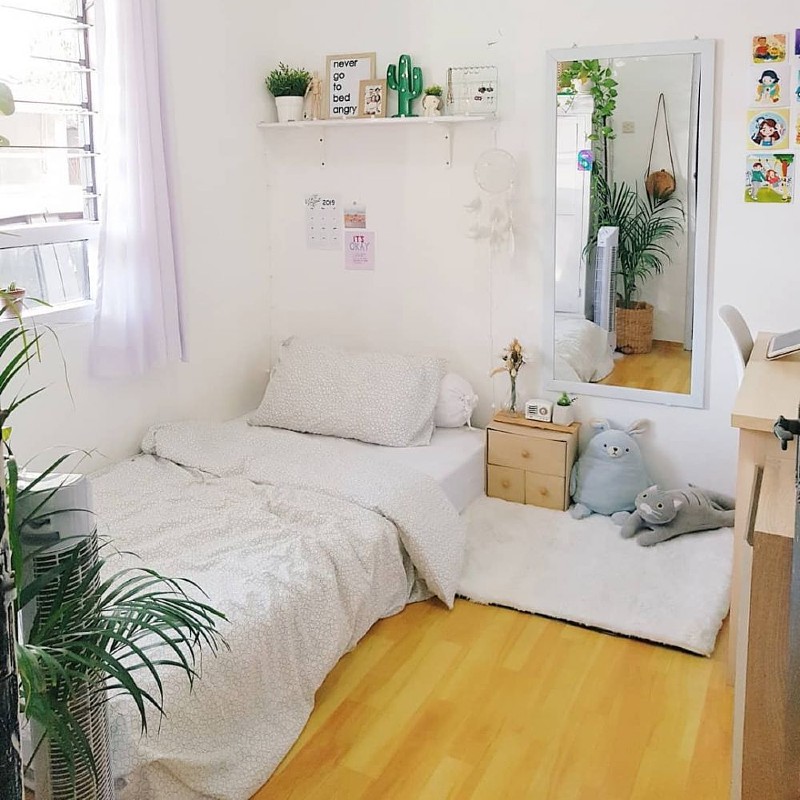 Even if you have a room that is not too big, you can design a more attractive child's room.
The option of using a floor mattress with sheets of different cheerful colors makes the room more cheerful, beautiful and attractive.
3. Wall Paint 2 Colors
The design of a 2 × 3 room with a floor mattress this time uses a thin wooden bed base.
Of course, using 2 tone wall paint can make the room more attractive.
You can choose the color that is preferred by your child.
4. Suitable for guest rooms
Some standard pensions are not large in size. However, you don't need to worry that you can design well.
The choice of using pastel colored wall paint will make the room cooler, with floor mattresses and small wardrobes and wall mirrors.
5. Monochrome Room Motif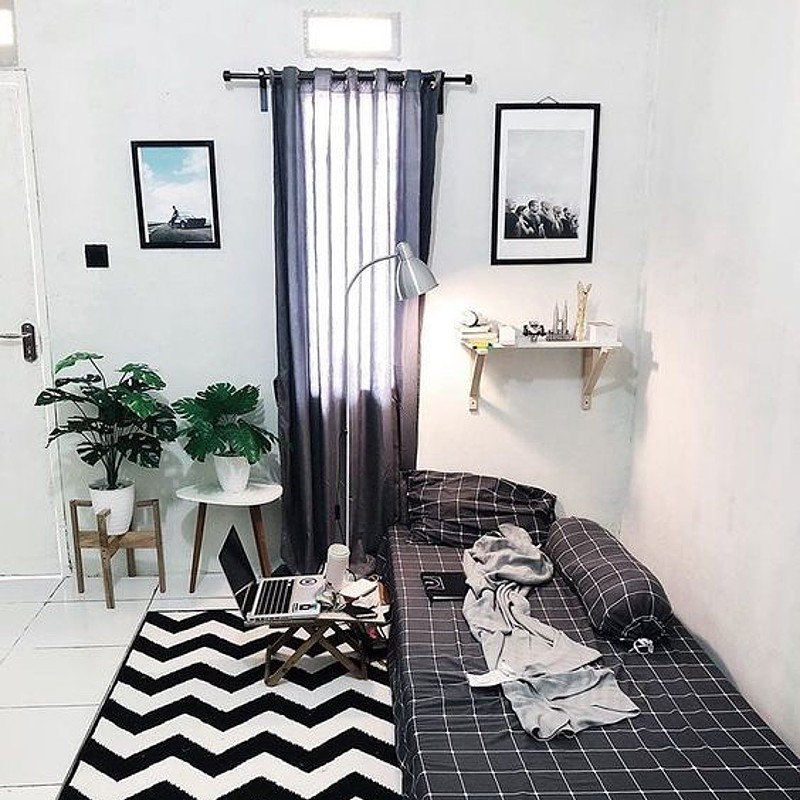 Black and white has always been a favorite color for many people, especially for the decoration of a room or another room in the house.
Different white and black furniture gives an impression gothic thick But, you can use white wall paint to make the room brighter.
6. Yellow 2 × 3 Room
For those of you who love yellow, of course you are happy to see the design of a room of 2 × 3 with a floor mattress.
However, if the design of the bedroom is 2 × 2 for the husband and ​​wife, it could look tight with a big enough mattress like this.
7. Wallpaper Nice room
When you choose to design a room according to the wishes of the owner, of course you have to make yourself comfortable when you are in it.
Also, decorate with wallpaper beautiful bed linen and furniture that match the concept of the room.
8. 2 × 3 Room window that makes it bright
Even if the size of the room is not too big, the presence of two windows makes the room brighter.
You can put a floor mattress in the middle and cabinets or small shelves on the right and left sides of the mattress, adding to the area of ​​the room.
9. Colorful room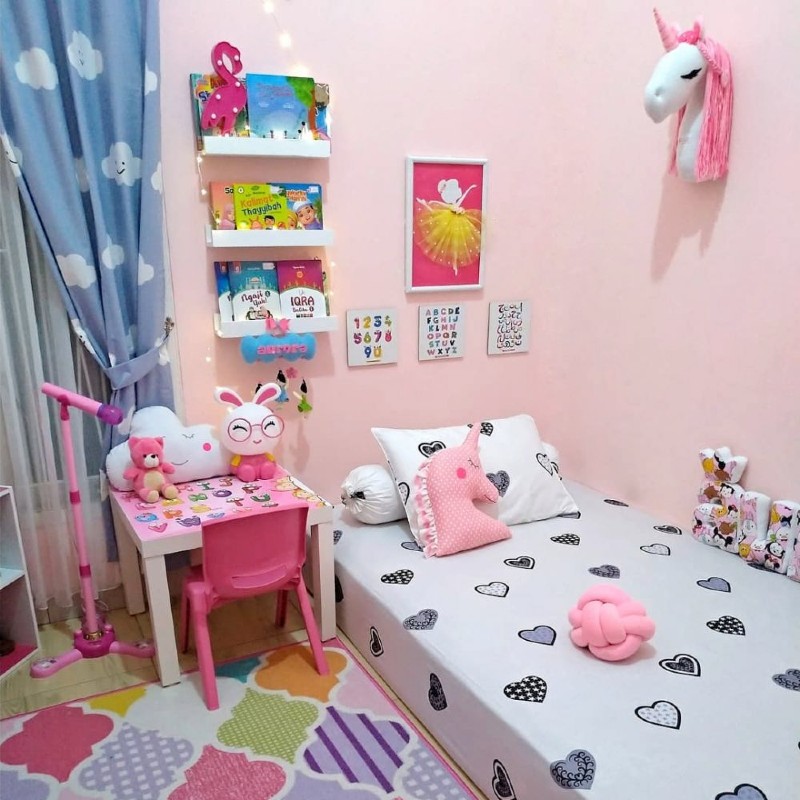 Having teenage children requires you to prepare your room to be more independent.
This room design inspiration can be a reference when you make a room for girls.
10. Kids room ideas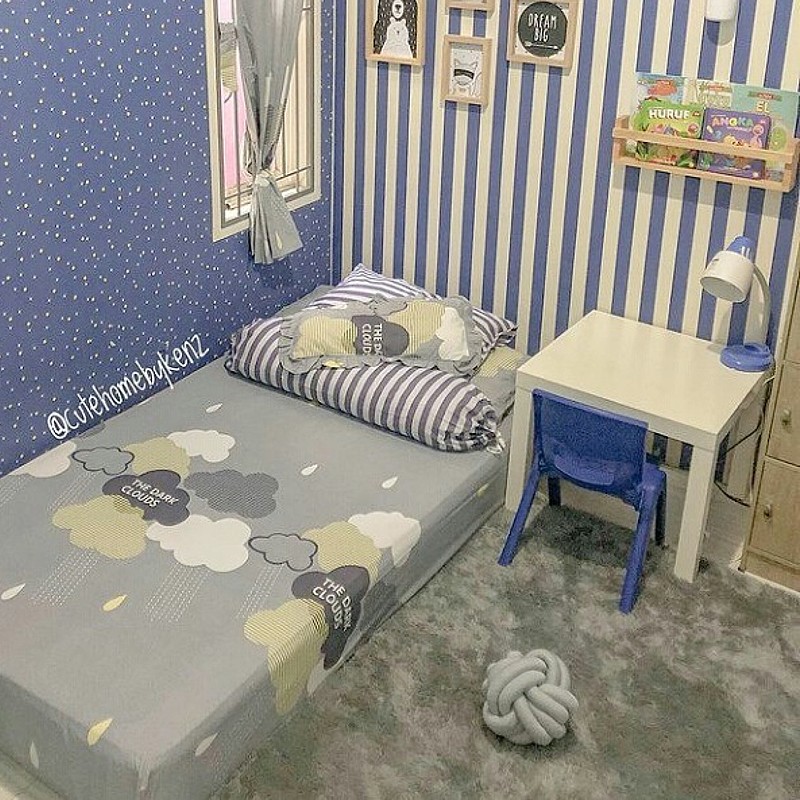 This 2×3 girl's room design is attractive with the application of purple wall paint made in stripes and patterns.
To make the room feel comfortable, use a minimalist carpet with thick pile.
11. Attractive Wall Motifs
Although it looks simple, this room with a floor mattress looks attractive with patterned wall painting. Very unique huh.
The lighting from the window makes this 2×3 room look more spacious and clean. You can also use your small study table.
***
Wow, it turns out there is a lot of inspiration for bedroom designs that measure 2×3 with floor mattresses.
I hope this article can add information and be useful for you, okay!
Also read articles on lifestyle, property news to design inspiration, found at www.lacrymosemedia.com.
Don't forget to see other room decoration ideas on Google News www.lacrymosemedia.com.
If you are looking for a dream residence, visit the various best tips at www.lacrymosemedia.com.
As a minimalist house in the area of ​​Depok, West Java, namely Almeria Premiere Cimanggis.
There are also choices of other minimalist houses in Jabodetabek, because we are always #ThereForYou.