7 Tarpaulin Pond Design Inspirations for Fish Farming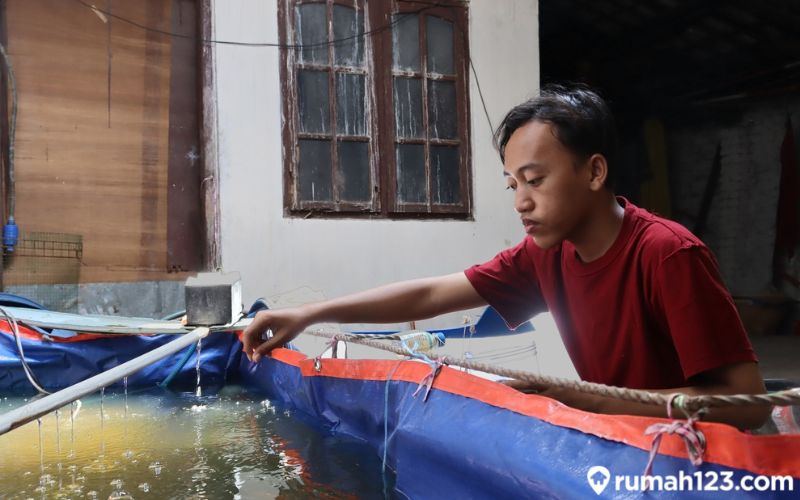 Fish farming is a popular business. To do this, you need to prepare a tarpaulin pool in advance. So the fish farming is going well, see the tarpaulin pond design here, let's go!
Having a great page is definitely a distinct advantage.
You can use this area for other buildings, such as a garden, a gazebo, or even a swimming pool.
Another option, you can make a tarpaulin pool in the empty space. Pools with tarpaulin materials are generally used for fish farming entrepreneurs.
Farming itself has many advantages. In addition, the types of fish that can be grown are also very different.
Of course, this can increase profits if the need for fish consumption in the community increases, right?
Investigate a calibration, the selection of tarpaulin material is not made without reason. The reason is, this type of pond is very easy to make, the cost is cheaper, to make it easier during the harvesting process.
How, interested in doing? Take a look at the different tarpaulin pool design inspirations below, go!
Tarpaulin Pond Design Inspiration for Fish Farming
1. Pond Design for Very Large Lands
If you have a very large area, you can build several tarpaulin pools like the picture above.
For the size itself, you can adjust it according to your needs.
For example, if you are using a fish pond for the cultivation of 1000 catfish, you can use a tarpaulin pond of 2 x 3 meters.
2. Tarpaulin Pool Design Using a Wooden Frame
Wood is a material that is often chosen as a buffer for tarpaulin pools.
Besides being easy to find, tarpaulin pools that use wooden frames are also very easy to make. Thus, it is very suitable for beginners.
Although a wooden frame is used, this type of tarpaulin pool looks sturdy.
3. Tarpaulin Pools with Strong Iron Frame
In fact, to design a canvas pool, you can choose any material that will be used as a buffer.
If you want a very sturdy, strong and durable tarpaulin pool, you can choose an iron frame.
Even so, the price of iron is usually more expensive than other materials. Not only that, the manufacturing process also takes a longer time and is definitely not easy.
4. Minimalist Tarpaulin Pool Design with Paralon Pipe Frames
Do you want to do fish farming but the size of the land is not big enough? No need to worry, you can make a tarpaulin pool with a paralon frame.
Yes, a tarpaulin pool using a paralon pipe buffer can be used as an alternative in a small area of ​​land.
On the other hand, making a tarpaulin pool design like this is easy to do.
5. Galvalume as Pond Buffer
Galvalume is a material made of mild steel coated with aluminum, zinc and silicon.
Galvalume material is currently widely used as a substitute for wood.
Although it does not seem easy to do, but make no mistake. The design of a tarpaulin pool that uses a galvalume frame is relatively easy to assemble, cook
6. Pool Tarpaulin Planted in the Ground
Tarpaulin pools can not only be made with different support materials. However, you can also make a tarpaulin pool that is planted directly in the ground.
Some people choose this design because it is larger and does not require special supports.
However, this design of a tarp pool can only be done on a very large area of ​​land.
To do this, you have to dig the ground to a certain depth first.
7. Round Shaped
The design of a tarpaulin pool does not only have to be square, you can also build a round tarpaulin pool.
In fact, this type of tarpaulin pond can be built for the cultivation of different types of fish.
However, often, round ponds are used for raising fish with the biofloc technique, which is a system used using organisms as animal feed.
Well, this is the inspiration for the design of the tarpaulin pool that you can imitate.
Hope this info helps, eh!
Don't forget to read www.lacrymosemedia.com article to get interesting information about property to lifestyle.
This page also makes it easy for property seekers and others why www.lacrymosemedia.com is really #ThereForYou.
It's time for you to choose and look for the best property for residence or investment, only in www.lacrymosemedia.com.
If you are looking for a property recommendation for a place to live or investment, the best choice is Jade Park Serpong 2.