7 Modern Javanese Living Room Inspirations, Not Obsolete!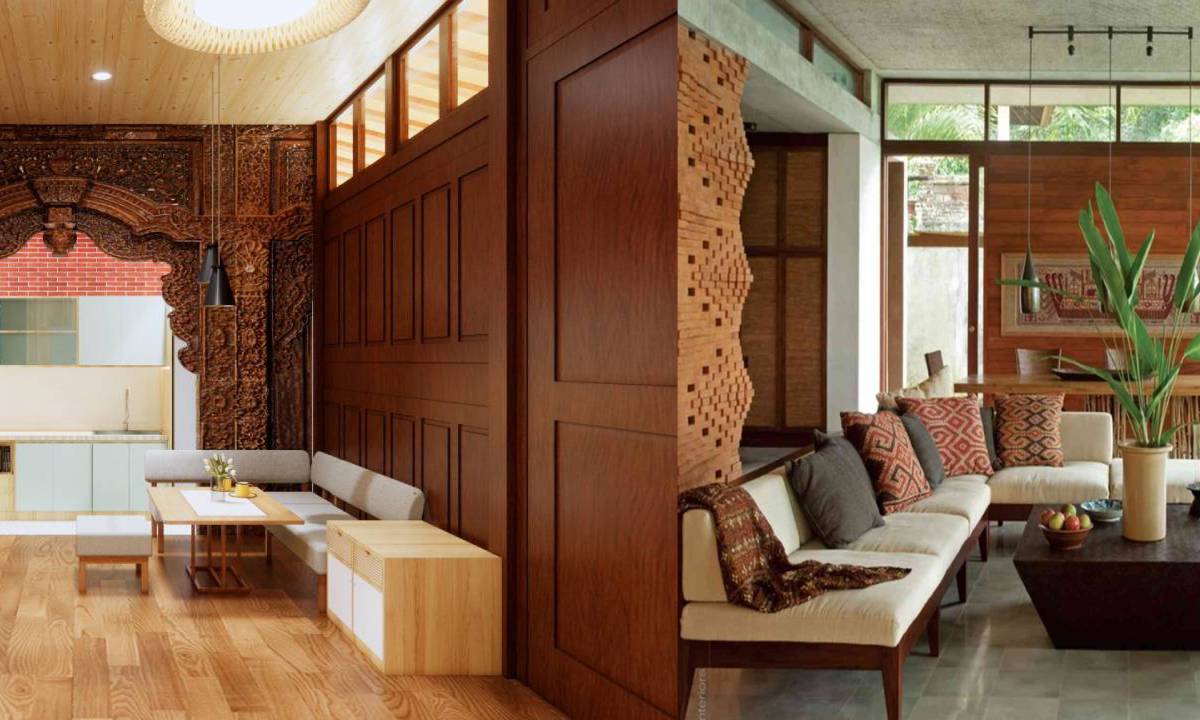 The modern Javanese living room can be an inspiration for anyone who wants to have a residence with a fresh and artistic look. Check out the different options below.
Property People, the living room is an area that is often the center of attention.
A beautiful and clean living room will definitely make a great first impression on visitors.
It's just that, not a few who feel confused about how to organize the living room to make it look attractive and unique.
However, do not worry because there are many options for how to organize your living room to make it a little different.
One of them is applying a modern Javanese living room at home.
The application of this design is guaranteed to make anyone wonder because it does not look old or outdated.
Go ahead, check out the various inspirations below!
7 Modern Javanese Living Room Inspirations
1. Hall with Gebyok Ornaments
There are many traditional elements that can be applied to a modern Javanese living room, one of which is gebyok.
Gebyok is a wooden wall partition that is one of the characteristics of traditional Javanese houses.
NahYou can also use gebyok as an ornament in the living room for modern residences.
There are gebyok motifs or sculptures so that the interior of the house looks unique and artistic. here we go.
Gebyok walls can be combined with Japanese-style furniture.
As a result, the living room feels warm and inviting.
2. Living Room with Batik Ornaments
The inspiration for the next modern Javanese living room is complemented by batik ornaments as wall decorations.
Batik is a diversity and richness that is so special, even in the eyes of the Javanese people.
Therefore, you can embed batik ornaments as decorations or ornaments in the living room.
To add a modern impression, choose a minimalist sofa model with uniform colors on the walls or batik patterns.
3. Living room with Woven Bamboo
One of the characteristics of a Javanese house is that it is equipped with wooden or bamboo elements.
Therefore, there is nothing wrong with the interior of the living room at home with wood material that is warm and soft.
For example in the living room area on it.
Wooden elements on the walls, furniture and decorations make the interior of the house more natural.
The walls of the living room look more artistic with the presence of fabrics on some of the walls.
This living room manages to mix a charming traditional and modern style.
4. Living Room with Wall Reliefs
Quite a few typical Javanese houses use reliefs on the external walls of the house.
Wall reliefs can make a home more unique and aesthetic, here we go.
However, not only outside the house, the wall reliefs can apparently also be applied in the house.
The existence of wall reliefs as ornaments of the living room makes the interior look unique.
5. Blend traditional and modern
The combination of modern and traditional living rooms can look beautiful, as long as they are arranged in the right way, Property People.
To maximize, pay attention to the selection of living room furniture and decorations.
Nahyou can imitate a living room design like this because it combines modern and traditional elements well.
Interested in implementing it at home?
6. Living Room with Modern Tiles
Who said tile floors look old and outdated? No, cook.
Proof, tiled floors at home can make the living room modern. here we go.
The key is in the tile motif and the selection of appropriate decorations.
Therefore, choose modern tile motifs such as floral or semi-classical motifs.
7. Hall
The final inspiration for this modern Javanese living room is suitable for various residential models.
Wooden elements combined with traditional ornaments, such as batik, can add an ethnic impression to a home.
Nahthis design of a living room is perfect for minimalist residences to Scandinavian industrial mixes.
***
It is a modern Javanese living room that can be your inspiration.
So, what is interesting to apply at home, no?
Hope useful, yes.
Find interesting articles about design only at www.lacrymosemedia.com.
Also follow www.lacrymosemedia.com Google News to find various other topics.
Looking for accommodation around Bandung?
Go ahead, consider Dago Village that offers attractive accommodation options.
Get convenience to meet the needs of the property, because we are always #AdaBuatAnda.