6 Fascinating Small Minimalist Living Room Interior Design Inspirations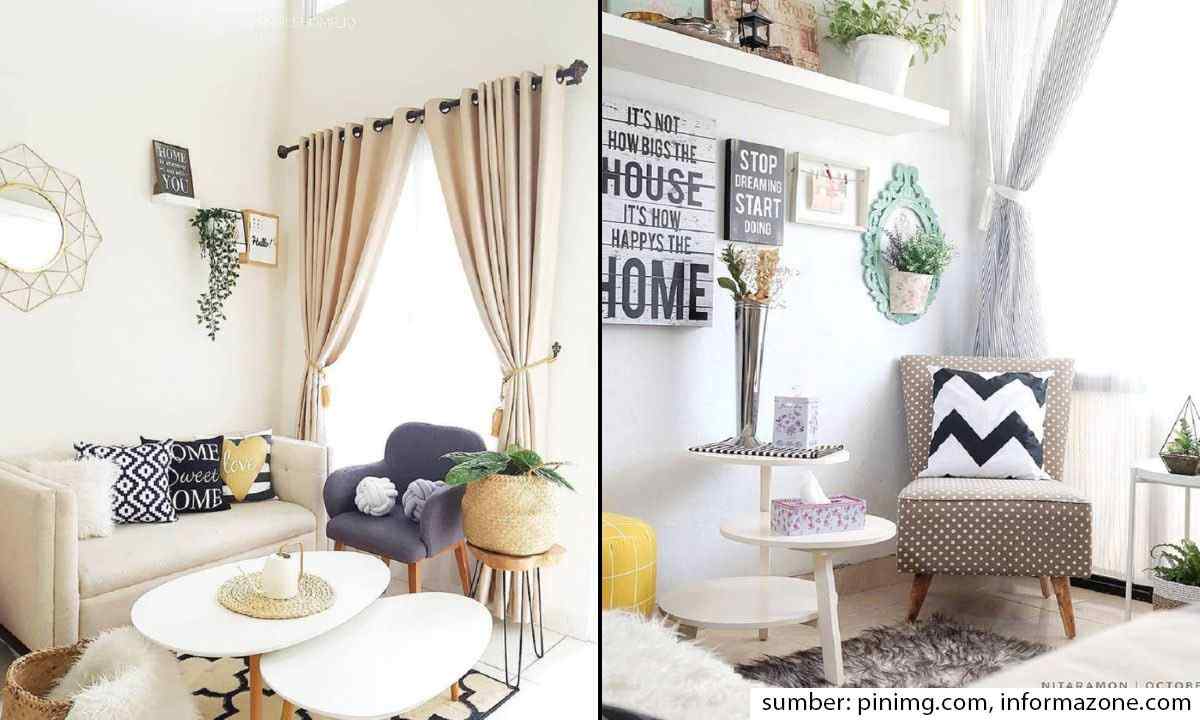 Do you want to have a minimalist living room, but the size of the room is too small? Check out a variety of interior design inspiration for a small minimalist living room here!
One of the rooms in the house that guests see when they visit is the living room.
For this reason, most people often arrange their living room to look more beautiful than other rooms.
However, it turns out that you do not need to organize the living room too much or luxury to have a charming room. here we go!
With a good layout, you can have a minimalist and beautiful living room interior.
Just look at the various inspirations for the interior design of a small minimalist living room below!
Minimalist small living room interior design inspiration
1. Luxurious Gold Domination Living Room Interior Design
The first minimalist interior design inspiration for the small living room is a room dominated by gold.
The use of gold can give the impression of a luxurious and elegant room, even if the size is relatively small.
Not only this, the golden color can also add a warm feeling to your home so that guests are sure to be comfortable when they visit your home.
2. A Simple, Warm and Comfortable Living Room
The next design is suitable for those of you who prefer simple and minimalist designs.
This room does not have a lot of furniture, but it still manages to look beautiful and charming.
This is because the room is furnished with furniture in bright colors, such as yellow, white and brown.
These colors manage to give a family impression that makes you feel at home for a long time in the living room.
3. Enchanting Elegant Living Room Design
The inspiration for the next minimalist design of the living room is this elegant and beautiful area.
Thanks to the selection of beautiful decorations, the room looks sweet and feminine, so it looks very attractive.
Some of the decorations or furniture you can choose to bring this feeling to your home are polka sofas, small ornamental plants, wooden wall decorations and lace curtains.
4. Aesthetic and Charming Salon
The next option is suitable for those of you who are happy with contemporary designs.
This design of the living room is beautiful because it uses contrasting colors, namely gray, white and a touch of gold.
Because of the contrast, the colors look more impressive and manage to give an elegant impression to the room.
Although it is dominated by neutral colors, the room does not feel cold or stuffy because it is equipped with soft carpets, feather blankets and pillows.
5. Beautiful Yellow Gray Living Room Design
Bored of white?
You can imitate the interior design of this small minimalist living room.
This room is dominated by gray which gives a modern impression.
Instead of white, this gray color is really combined with yellow which makes the rigid room look more cheerful.
The room was only equipped with a few pieces of furniture so it didn't feel cramped and cramped.
6. Elegant white and gray living room
The next living room interior design looks very beautiful and attractive.
This room is equipped with a large white sofa and two comfortable chairs.
The unique thing about this room is that each sofa has a different design.
In any case, the three sofas have colors that always match the rest of the room so that the living room looks harmonious and aesthetic.
***
I hope this collection of home designs is useful for you.
Do not forget to check the articles about houses and other properties only on Google News www.lacrymosemedia.com.
If you are looking for your dream home, we find it at www.lacrymosemedia.com which is always #AdaBuatAnda.
There are many attractive offers such as accommodation in Srimaya Residence in Bekasi, West Java.