13 Comfortable and Spacious 3 Bedroom Minimalist House Plans
Check out the various recommendations for minimalist 3 bedroom house plans that you can apply comfortably and functionally for the whole family.

Everyone certainly wants to build a house according to their daily needs.
For those who are married, they may prefer a house with a large number of rooms depending on the number of family members.
Families with two children that are common in Indonesia, for example, are more appropriate to choose a house with three bedrooms: one for the parents and two for each child.
Well, if you are building a minimalist house with 3 bedrooms and you are looking for the inspiration of the right plan, maybe you can listen to this article.
Here are some tips for 3 bedroom minimalist house plans that you can emulate.
The best 3 bedroom minimalist house plan recommendation from 2022
1. Combination of Open Space in Narrow Lands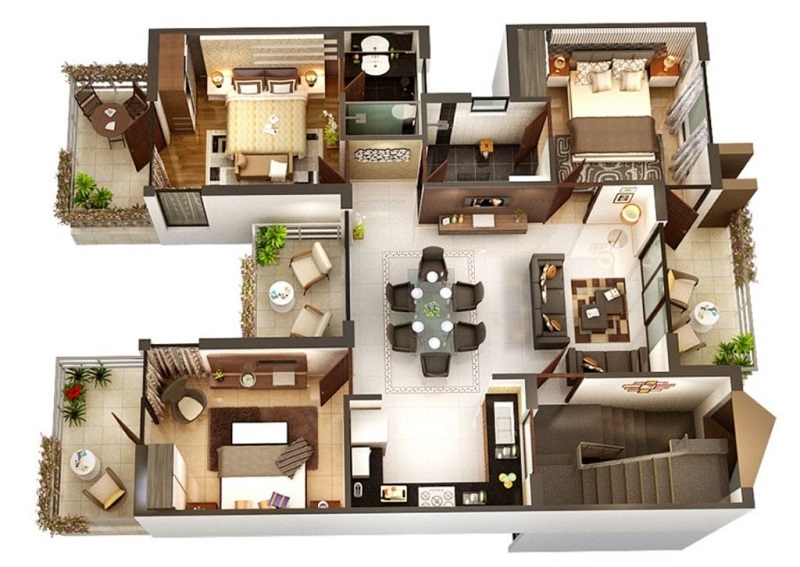 A plan with a combination of open space is a part that is often made by the residents of the house, which connected to bedroom and family room.
This open space is the right choice for the best air circulation in the house.
2. Functional in a Small House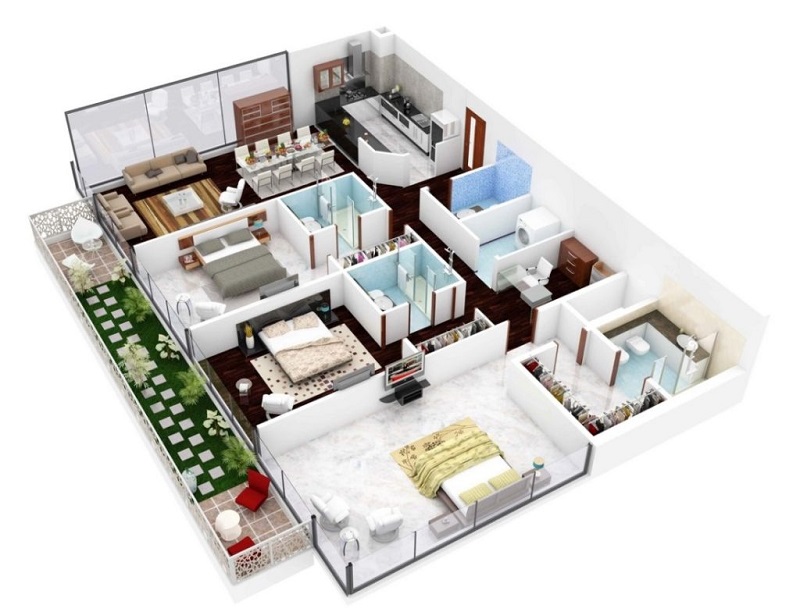 The inspiration for this image seems functional and practical, especially for those of you who want to have a room and bathroom with high privacy.
The integrated kitchen and family room, resulting in more freedom during the meeting
3. Tight but looks comfortable
This plan for 3 rooms can be the best choice, especially in narrow spaces with high functional aspects.
Although it is located on a limited plot, this space is quite complete including additions walk in closet.
4. Minimalist accent with a maze theme
The theme of the labyrinth can be a very interesting plan, especially for those of you who already have children at home.
The reason is, this house plan seems very functional that is connected to each other.
5. Separate Private Room Combination
In addition to practicality, the privacy factor is also the most important part of a house plan so as not to disturb other people when they visit.
In the center of the house is designed with a very spacious that produces the best comfort.
6. Simple but Looks Functional
For those of you who prioritize function, this plan is the right choice with the use of the kitchen and the bathroom as a barrier.
The combination of the dining room and the family is done in one part, because it looks optimal.
7. Spacious and elongated distances between rooms
You can also apply a house plan to the back like this picture, with a comfortable and spacious room distance.
Selection of this type produces the best comfort for the meeting, even in a narrow room.
8. Combination of Interconnected Rooms
The interrelationships between the spaces on the side of the plan are important, from a minimalist balcony to a room with a balanced composition.
It is not only connected and functional, there is also a minimalist balcony in the room which is very calming.
9. Lay on the Sides
For those of you who want to make a house with a side concept, this house plan deserves to be imitated openly and functionally.
This open and functional atmosphere is very comfortable for family gatherings with a relaxed atmosphere.
10. Combination of Minimalist House with Green Zone
For those of you who want to be different, this minimalist house plan with a green concept can be the best way with a wide garden concept.
The green area from the front and the back certainly looks refreshing, and makes the residents of the house feel at home.
11. Minimalist 3 Bedroom House Plan with Garage Internal
If you already have a vehicle, you should consider a house plan with an open and functional minimalist look.
Meanwhile, the terrace side of the house can be combined with a minimalist dining room, a place to relax.
12. Looks Spacious with Separate Space
If privacy is the main thing, you can choose a floor with a separate room for rest or doing activities like this picture.
This design will be very suitable for those of you who often experience rest disturbances, make it more comfortable and quiet.
13. Plans with Villa Concept
In addition to being a house, you can plan a plan to resemble a comfortable and functional villa.
The concept of this villa is complemented by an open space on the central side that adds to the spaciousness of the space as a meeting place.
***
Here are some inspirations for minimalist 3 bedroom house plans that you can apply.
Let's discover the best inspiration for the house, complete at www.lacrymosemedia.com and follow Google News Rumah123 right now!
Create your dream home together Mississippi Cluster Tourist City more to www.lacrymosemedia.com and give www.lacrymosemedia.comthat certainly #AdaBuatKamu!