10 ideas for combining light gray house paint colors with other colors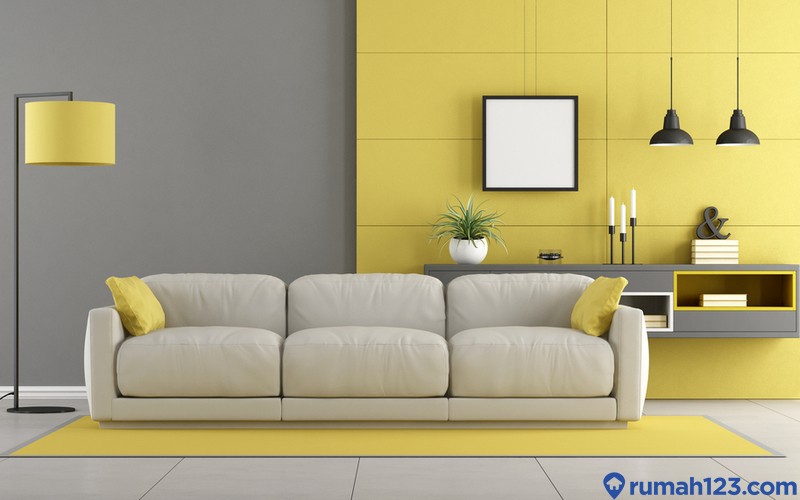 Bored with the wall painting of your house? So, to make it more attractive, try a combination of light gray house paint colors with other colors.
The combination of several colors for a room is usually used to create a more attractive room.
In addition, combining several colors of wall paint can also avoid confusion with monotonous colors.
Gray is a type of pastel color that can be combined with many colors in a room.
To make it more attractive, you can combine light gray with some bright colors or other dark colors.
Here's an idea for a light gray house paint color combination that you can try at home!
The combination of light gray house paint colors with other colors
1. Gray Paint for Living Room
The combination of gray and white house paint colors is the most suitable combination.
Both will give an elegant impression to the room.
The following references can be applied to the living room and the dining room with different color paint.
2. Gray and white
The combination of gray for the living room can use white on the bottom of the wall, as shown in the picture.
This room with a classic chandelier will be even more beautiful when it is decorated with furniture with the same concept.
3. Gray and Purple Wallpaper
Apparently, light gray like this is suitable when it is combined with purple.
The gray color combination for this house paint can give a luxurious effect to the room.
All you have to do is to provide room accessories like a glass wall, a corner table with a purple table lamp.
4. Dominant Gray and White
Although this bathroom only uses light gray paint in small amounts, it still looks elegant.
The light gray color is only used on the top of the bathroom wall and the bottom is combined with white. Nice!
5. Gray and dark blue
Do you want to spoil your eyes with an unusual wall color?
The combination of gray and blue house paint colors can be an option, here we go.
The dark blue color can give a warm effect.
Meanwhile, the light gray really gives comfort to everyone in the room.
6. Gray and Pastel Green
The combination of gray house paint colors with the following pastel colors gives a romantic and warm impression.
However, the green color in the accessories of this area actually makes it more attractive with a prominent color.
It's worth a try, here.
7. Gray and Green Tosca
Tosca green is again a perfect match when combined with warm pastel gray as shown in the following image.
The combination of gray color and Tosca green house paint gives a more attractive impression to the room, as well as the light colored vinyl floor.
8. Gray and Blue
It turns out that it is not difficult to make a room more charming, just use two different colors of wall paint.
The combination of gray and blue house paint colors can revive a room.
The reason is that these two colors can also balance the appearance of the living room.
9. Orange and gray combination
Another gray color combination for house painting is orange.
These two colors create a contrast that is dark and bright at the same time, but always goes well together.
10. Combination of Yellow and Gray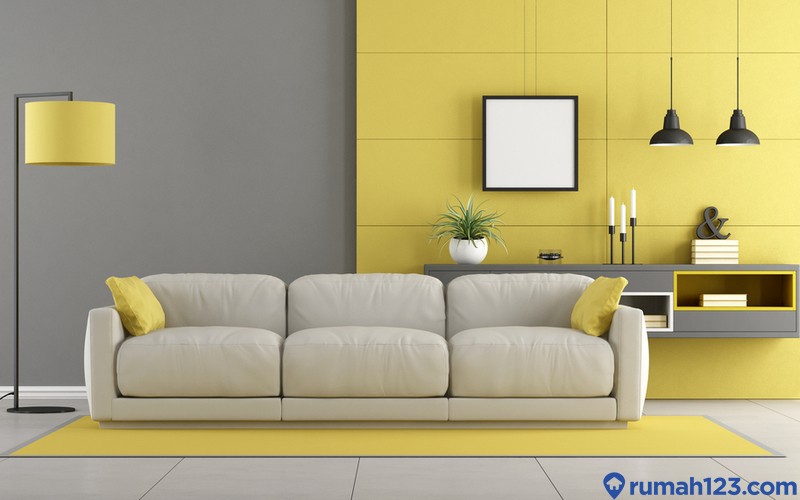 This dark gray wall paint color is perfect for your living room because it can give a cheerful impression.
Also, the room will bring you joy and yellow can bring you to the outdoors.
***
Here are some of the design inspirations above that may come in handy!
Check periodically for articles on design inspiration only at www.lacrymosemedia.com.
Also read the latest newsupdate others by opening the rumah123 Google News page!
Currently looking for a coveted residence such as Fortunia Residences 2 in the area of ​​Pondok Cabe, Tangerang?
Access to the property site www.lacrymosemedia.com to get your choice of dream house, because we are always #AdaBuatAnda.