10 Geometric Pattern Wall Painting Ideas to make the room more aesthetic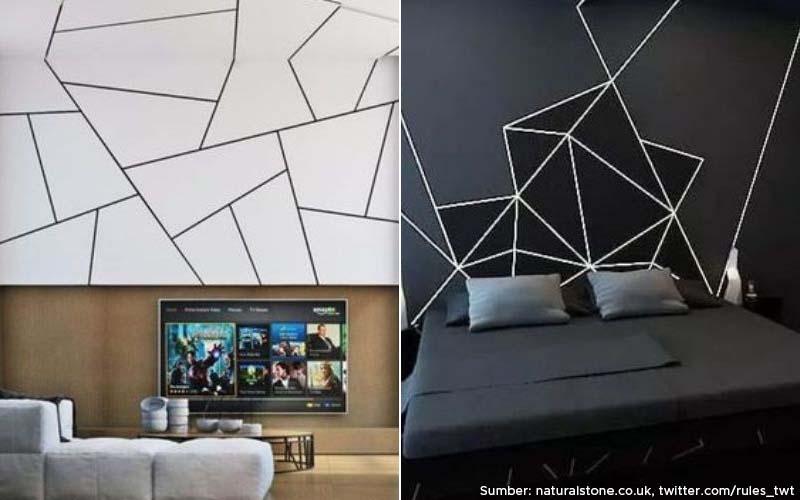 Are you tired of the monotonous color of wall paint? Go on, try applying the following fascinating geometric pattern wall painting ideas!
Recently, wall painting with geometric motifs in the middle has become a trend and very popular, especially among young people.
This colorful painting decoration makes your room look more unique, this is suitable for those of you who like attractive accommodation.
Geometry itself is a form that is measurable, for example, the shape of a triangle, pyramid and rectangle.
Using this model, you can be creative with different paint colors that you like and make it more attractive.
So, here are some geometric wall painting inspirations in 3 colors or other colors that you can try at home!
Trending Geometry Pattern Wall Paint Inspiration
1. Dark Green and Gold Geometry Pattern Wall Paint
The combination of green and gold will make the room look more luxurious and charming.
You can make it more attractive by placing some furniture with the same color.
2. Black and white
The following 3 color geometric wall painting ideas can be applied to a child's bedroom making it more masculine.
The dominant black and white as well as the lines make the room more lively.
Also, the black color is divided in half tone, light black and deep black.
3. Dark green and light green
The color combination you can do to make this geometric pattern is to combine light green and dark green.
Pattern of wall painting simple The following are suitable for the main room that gives a warmer and more comfortable impression.
4. White and Black
This two tone geometric wall painting looks very nice when used in a family room with a predominance of black and white lines.
The combination of colors makes the room look more luxurious and magnificent. Wow, you have to try this.
5. Unit of 3 Colors
Although patterns like this seem difficult to apply, actually painting patterns like this are very easy to use.
In fact, you can paint the walls of your house yourself with geometric pattern wall paint with the color you want.
6. Pink and Gray
This 3D geometry wall photo looks so beautiful and luxurious.
How not, the combination of pink is very beautiful with white marble on the wall.
In addition, light gray and gold add liveliness to the minimalist walls of your living room.
7. Pink and Gold Geometry Pattern wall painting
In addition to homes, you can apply the following unique wall painting motifs to offices.
You can use two colors for the walls of the room, then apply a geometric pattern in one part.
Use a color like gold for the stripes to make them look more attractive.
8. Combination of three colors
The walls of children's rooms usually use blue, but the appearance will be more attractive if it is combined with geometric patterns.
The combination of these three paint colors makes the room look more lively and not boring.
9. Room Geometry Pattern Wall Paint Design
You can apply this wall painting idea in a geometric pattern in the room.
The main focus is to mix dark colors like green and marina so that the room looks more character.
10. Yellow Geometry Pattern Inspirations
Later, you can paint the walls of the room with white dominance.
So, make a colorful geometric pattern on a part of the wall like vowel point room
***
Here are some geometric pattern wall painting inspirations that you can imitate and apply to your home.
Check out other interesting information from lifestyle to property news at www.lacrymosemedia.com.
You can also read most of the news update via Google News www.lacrymosemedia.com.
Interested in living in Citra Maja Raya housing?
Instantly find attractive offers only on www.lacrymosemedia.com/id and www.lacrymosemedia.com that are always #AdaBuatAnda, okay!